Ratchet and Clank 2015
Ratchet & Clank is an upcoming computer-animated buddy comedy film based on the platforming video game series of the same name by Insomniac Games.
 It will be produced by Rainmaker Entertainment and Blockade Entertainment and distributed by Cinema Management Group. Series developer, Insomniac Games, will play a role in the film's production, screenplay, character development, and animation consulting. The film will be directed by Kevin Munroeand Jericca Cleland, and feature an original story written by the original Insomniac Games writer TJ Fixman as well as featuring the same voice cast to reprise their respective roles and utilizing assets from the video games in the film. It is currently scheduled for a theatrical release in early 2015.
The film will be an origin story that retells the events of the original Ratchet & Clank, depicting how Ratchet and Clank met each other as they attempt to save the Solana Galaxy from Chairman Drek and the Blarg. However, the film will expand on various plot points in greater detail, and will also incorporate some elements from later series entries, such as Doctor Nefarious and the Galactic Rangers.
Voice cast
The film will feature returning voice actors from the series, reprising their original roles from the video games.
James Arnold Taylor as Ratchet, Clank's Lombax friend.
David Kaye as Clank, Ratchet's robot friend.
Jim Ward as Captain Qwark, a galactic 'superhero' and celebrity.
Kevin Michael Richardson as Supreme Executive Chairman Drek, the Blarg leader.
Armin Shimerman as Doctor Nefarious, a robotic supervillian with a vendetta against Captain Qwark and organic life forms.
Michael Bell as Lawrence, Dr. Nefarious' robotic butler.
Production
"One of the biggest questions we have gotten in the last few years is 'When are you going to make a Ratchet and Clank movie?' The truth is, we've wanted to do a movie for a long time! Ratchet & Clank's action, humor and galaxy-spanning adventures have really been the basis for a fantastic game series, and we think it'd translate perfectly to the big screen."
— Insomniac Community Lead, James Stevenson, on the PlayStation Blog
The film adaptation was announced on the PlayStation Blog on April 23, 2013, alongside with the first official trailer released on YouTube, for a 2015 theatrical release. The film is being produced at Rainmaker Entertainment's Vancouver studio in Canada, and will be executively produced by Michael Hefferon, President of Rainmaker Entertainment. The film will tap on Insomniac Games' vast asset library from their Ratchet & Clank video games, while creating their own new unique locations and characters.
 Check out some Ratchet and Clank 2015 Movie Images :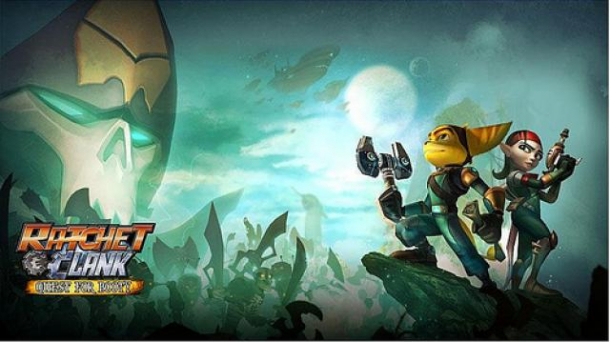 _________________________________________________________
Thank You for Visiting Sci Fi Junkies. We strive to give every visitor a fun experience. Your opinions and comments are very much appreciated, please contact our support team. Thanks!